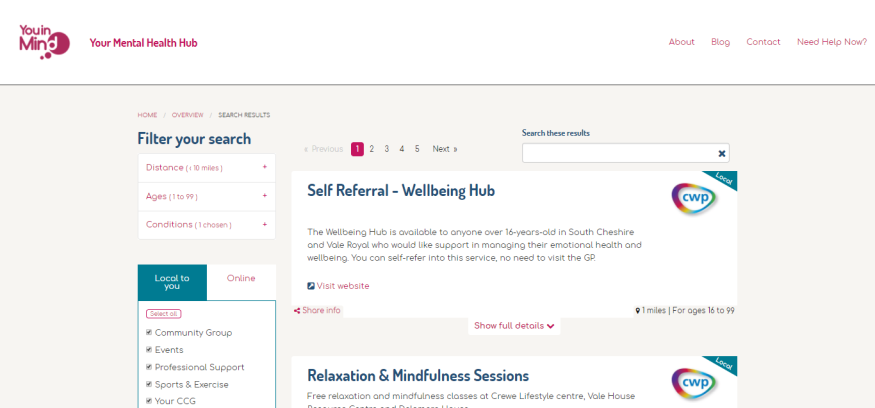 A warm welcome to the very first of our Weekly Services Updates! Every week we will be providing you with a rundown of the latest mental health services in Cheshire that have been added to our online hub.
And what a week it has been! We've added a whopping FIFTEEN new mental health listings to our site spanning across the whole of Cheshire.
We've added three new virtual services to our hub including: the email-based OCD helpline offered by OCD Youth; the Beat Eating Disorders youth, adult and student helplines; and Students Against Depression's informative online resources Tackling Depression and Get Support.
Motherwell CIO are running the Spark & Shine Women's Wellbeing Day events throughout March until July 2018 in both Crewe and Winsford, while author Lynn Tammadge is running her Getting Started with Creative Writing session in Nantwich on the 29th April 2018.
Age UK Cheshire have a host of great activities for the elderly, such as the Pub Lunch Club that runs every first Monday of the month in Hartford; Art Classes in Nantwich running every Thursday; and Computer Lessons held in various venues across Cheshire throughout the week.
Tea Parties with Friends, a volunteer-led scheme for anyone 75+ to combat loneliness and isolation, is being run by national charity Contact the Elderly one Sunday every month.
For those looking for services related to autism, we now have listings for Autism Networks' Autism Support sessions. These run Tuesday to Friday from 9am until 12pm in Crewe.
There's also Asperger's Social Skills Group for Adults for those wanting to improve social confidence. This is run by Carers Trust 4All every other Thursday evening in Chester.
Also in Chester we have Phab running a Social Club for those with disabilities and People's Choice Group run an Autism Drop-In every Tuesday afternoon.
Lastly, Hft has launched luv2meetU in Ellesmere Port which is a dating and friendship service for those suffering from autism and loneliness.
If you'd like to include a service of your own on our online hub, please contact our team today!